I got the idea for this recipe last weekend when we got food from the Seabirds truck, a vegan food truck in OC.  Very tasty!  We had it for dinner but it would be great for any meal.
Traditional quesdillas call for ooey, gooey sticky cheese but this one does not.  You can use some Daiya vegan cheese if you like (it would be delicious, not gonna lie), but just keep in mind its a processed food with a lot of fat.  Maybe you can use a tiny bit.  :)  In this recipe I used a cashew cheese concoction made with cashews and green chiles.  I didn't use much since cashews are very high in fat as well.  I took my "Cheesy Sauce" recipe (see in Recipes), and tweaked it a little bit to make a thicker, spreadable mixture.  See below for details. You can use all sorts of different veggies in this dish; I used what I had on hand which happened to be mushrooms and spinach, along with the potatoes.
You can use brown rice tortillas to make these babies gluten free.
Tofu Scramble and Potato Quesadillas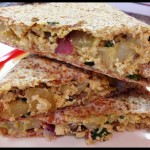 By Shelly Detken Published: April 26, 2013
This satisfying, savory dish is perfect for breakfast, lunch, brunch, or dinner! I like using Ezekial sprouted whole grain tortillas but you can use brown rice tortillas for a gluten-free option.
Ingredients
Instructions
In a small pot, cover potatoes with water, add a little salt, and boil until tender. Drain and set aside.

While potatoes are cooking, in large skillet saute onion, adding small amounts of water as it sticks. Once onions are soft, add mushrooms.

Smash tofu with a fork into small crumbles.

If your skillet is large enough, scoot the veggies aside and add tofu to the pan and cook until warm (use a separate large skillet if you don't have room).

To tofu add nutritional yeast, dijon, onion and garlic powders, cumin, turmeric, salt and pepper. Mix well, adding water or non-dairy milk as it sticks.

Combine tofu, onion, mushrooms, potatoes and spinach and mix well. Cook until warmed through.

Spread Green Chile Queso on a tortilla and scoop tofu scramble mixture onto one half of the tortilla, then fold. Cook until tortilla is crispy. Serve wish salsa and more Green Chile Queso if desired.

Enjoy!!

WordPress Recipe Plugin by ReciPress