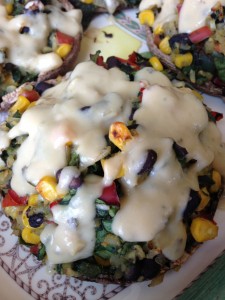 A few weeks ago Engine 2 (Rip Esselstyn's baby) announced they would be conducting a recipe contest.  The entries had to include at least one ingredient from the Engine 2 line of foods (available at Whole Foods – try them if you haven't!), be plant-based (duh), oil-free, low-fat and low-sodium.  I was familiar with the line of foods they offered and immediately got the idea for a recipe to enter into the contest.  It was announced today that my recipe was chosen as the Grand Prize Winner!!  http://engine2diet.com/the-daily-beet/  So fun and exciting!
The folks at E2 will be sharing this recipe with their readers, and I am sharing it now with you.  It's very easy, and delicious! Enjoy!
E2 Stuffed Portobellos w/ Hummus Gravy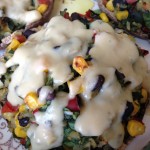 By Shelly Detken Published: August 20, 2013
This recipe uses Engine 2 frozen Fiesta Blend, and Engine 2 Jalapeño-Cilantro Hummus, currently available at Whole Foods, but any of their varieties (they have 3 of each) would work.
Ingredients
Instructions
Preheat oven to 400.

Wash mushrooms, gently scoop out gills and stem. Dry upside down while oven heats up.

Place mushrooms, gill side facing up, on baking sheet covered with parchment paper. Bake 10 minutes.

Meanwhile, saute onion over medium heat in dry skillet, about 5 minutes or until opaque, adding small amounts of water to keep from sticking. Add garlic and cook 1 more minute.

Add E2 Fiesta Blend, spinach and nutritional yeast to onion and garlic; cook 5 minutes.

When mushrooms have been in the oven 10 minutes, remove and pour off excess liquid from each mushroom. They'll be hot so use caution, or I've found a turkey baster works well at sucking up the liquid without disturbing the fragile/hot mushrooms.

Divide Fiesta Blend mixture among each mushroom. Bake for 15 minutes.

In a small bowl, combine Engine 2 hummus and 3 TBS water and stir until smooth. Microwave 20 seconds; stir and warm another 20-25 seconds.

Pour hummus gravy over each mushroom and serve!!

WordPress Recipe Plugin by ReciPress